Great news – the f4training.co.uk website is now live!
We started developing training scenarios and facilitating workshops back in 2006 and we loved it. In 2008 we swept the MIMA awards in London for our work with BP Shipping and realised that our approach was a little different. Well, quite a bit different. It got big results.
It was our work with BP that entrenched us firmly into Health & Safety Training and Communications and Values & Culture work. In 2017, we extended our reach by becoming an accredited Chartered Management Institute training centre, allowing us to offer Leadership and Management training. With an in-house training and support team we thought it was about time that this discipline within our business was given its own 'online home'. Over the coming months we'll be adding more courses and services.
So, take a look at f4training.co.uk and please do let us have your feedback.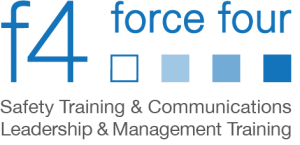 CIWM Best Health & Safety Programme 2018
NRA Best Health & Safety Initiative 2018 – Highly Commended
CIPD Best L&D Supplier 2018 – Highly Commend