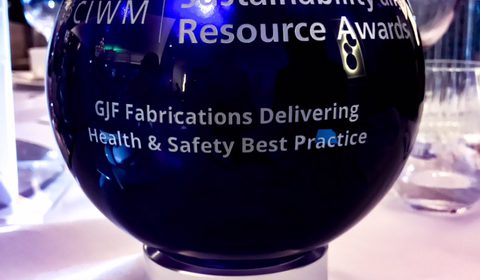 How to Lead your Industry in Health & Safety Best Practice?
By F4, December 1, 2017
We are thrilled to announce that our client, LondonEnergy, recently scooped the top award at the CIWM Sustainability and Resource Awards 2017 in the 'Health and Safety Best Practice' category.
Force Four have been working closely with LondonEnergy this year designing and delivering their Health and Safety Training Programme, 'Start Safely', as well as designing and implementing their re-brand from LondonWaste Ltd to LondonEnergy Ltd.
Force Four were initially tasked with the inception of a new safety culture; 'START Safely', the culture transformation would be underpinned by a rigorous 12 month training campaign – an astonishing 10,000 delegate training hours. Thus demonstrating LondonEnergy's commitment to lead the industry in Health and Safety Best Practice. The 'START Safely' campaign was designed by our in-house team for LondonEnergy as a professional, innovative training platform that offers 100% effective learning development. Force Four designed and facilitated interactive 'deep-immersion' workshops for the 300 strong workforce that included a classroom learning sessions that were always coupled with a fun 'memory anchor' activity, specifically designed to embed the learning. The subjects covered all main health & safety areas including Risk Management, Hazard Reporting, Manual Handling, PPE and Vehicle Safety.
The unique elements of these monthly training sessions used tailored interactive game-play and fun activities, specifically designed to increase retention and recall of the information communicated through the classroom session. We used a digital interactive voting system in each workshop to gain real-time insight of delegate opinion and knowledge retention and engagement. We use the results to prepare an in-depth management summary highlighting areas for celebration and concern.
The CIWM Sustainability and Resources Awards are long-standing and well-respected awards that are given for outstanding achievement in the Sustainability, Resource and Waste Industry. We are honoured that we now have an award-winning Health & Safety Training package to add to our achievements. We send a huge Thank you and Congratulations to LondonEnergy for all their hard work and commitment on this project.