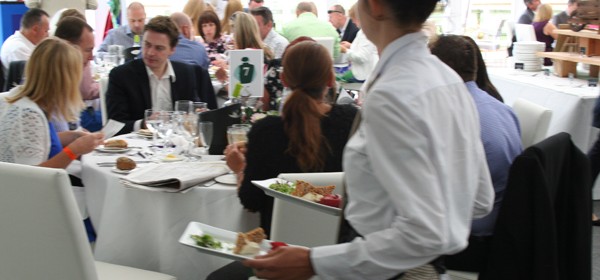 Find your Perfect Event Caterer
By f4group, January 15, 2016
No matter what kind of event you are planning, whether a business seminar, wedding or Christmas party, the choice of caterer is crucial to making your event a success.
Of course, you want your event to be perfect, you are putting in both time and money to get this right, but the choice can often get confusing.
We have put together some tips to help find the perfect caterer for the event you are planning:

Refine your SearchThere are hundreds of caterers out there, the first step is to narrow down your search.

If you have limited experience hiring caterers your search will be a bit more extensive. Start by speaking to friends and colleagues. Recommendations and online reviews are often a good way of sifting through the mass of choices out there.

Speak to the venue you are holding your event at, ask them to recommend caterers they have worked with in the past. Many places, even if they do not offer catering services themselves, will have experience dealing with outside caterers.

Consider the Caterer's SpecialitySome caterers will specialize in large scale events whereas others will excel in smaller, intimate, or out of the ordinary events. Make sure you find a caterer who is a good fit with your needs and has experience doing something similar to want you want. Ask for testimonials from previous clients who have had a similar event, it will give you a better understanding of what you can expect.
Tasting SessionIf you are holding a larger scale event or wedding, then most caterers will offer a tasting service. This gives you a chance to sample the quality of the food as well as get to know key members of the team you will be working with.

If your event is smaller you may feel a testing session isn't necessary, but still make an appointment to visit the premises. This gives you the chance to gauge the professionalism of the staff as well as the cleanliness of the workplace. Chaotic kitchens are often a result of catering staff that have no pride in their food.
Menu OptionsConsider your caterer's specialities and review your menu options. Not all caterers are suitable for all events. A caterer which specialises in Japanese cuisine may struggle when it comes to traditional Italian, don't be afraid to ask questions and get photos of past events they have catered for, it is very unlikely that one caterer will be able to cover all menu variations.

Some caterers may only allow you to choose from their set menu's, where as others will be happy to discuss options that stray from set menus to incorporate your theme or local produce. A good caterer will be able to adapt their menu to suite your budget and theme.

Cost of ServiceCost of service is always going to be a major concern. Be clear about your budget and ensure that the quote you have been given includes the caterer's full service including set up, break down and all staffing considerations. Check for any hidden fees before you go ahead and sign the contract. Things like service charge and delivery are often missed off initial quotes, but would still be expected to be paid.
If you are still not sure, get in touch with the team at Force Four on 0800 470 4441, we are happy to go through anything you aren't sure of!