Merry Christmas and a Happy New Year! We sent out our happy CGI animation to you all over the christmas period and we wanted to write about it, our success and why we went for a CGI over another video or image we could have sent. We also have an interesting stat for you all starting this new year.
Christmas is finally over and we hope you enjoyed our CGI animation that was emailed to you all. A big thank you to those who shared and liked our email. We have an interesting fact that came out in the email campaign. First of all, we were intrigued by some stats that we found from a report from our friends Oracle eloqua and we tested this to find that it worked. The statistic was that the weekend was the best time to send emails. We released a batch of emails late one Friday night to see who would open the email over the weekend. We found out that this was more successful than the other batch that was sent mid week. We saw that more of you had time to open these emails over the weekend – even if it was your work emails. Have a look the infographic here..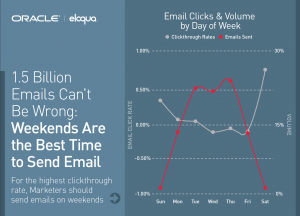 (Source: Oracle eloqua)
Have a look at the '40 Must See Charts' in our other news post.
The choice to use CGI was an easy one. One reason is animation is always a fun project to work on and with Christmas being all about fun this was definitely the medium to choose. Another reason is that everyone loves to watch a good, lighthearted CGI video to end their busy year. Force Four have created many CGI and 2D animations to help our clients show their products and service, so having that experience in CGI and video we knew this was something we would like to do. If you watched the video and you have ideas how animation could help your company in any way then give us a call. We love hearing your ideas and working out how we can convert this into a fun, easy to watch animation that conveys the message you need to send. For more information on CGI animation and the benefits of using CGI then
click here